Since my last post we have had our lives change forever. My husband was diagnosed with lymphoma. It is in his tonsil and lymph node. It is completely contained in those areas and he will be under going treatment for this. We hope to find out all the treatment options on Dec. 29th. Please continue to pray for our family as we journey through this together. The doctor sounded very sure that he would recover and be fine from this. It is just going through the in-between time that is going to be hard. As I said in my previous post: 2011 is going to be a good year, and it will be in Jesus name.
Grab this free e-book!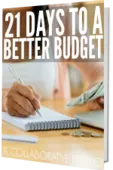 You will receive weekly updates, freebies, and more!