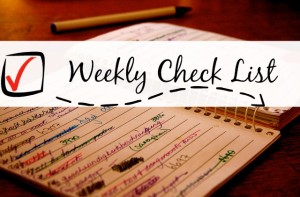 So here is how I did on my check list:
30 minutes every morning to read my bible and pray.

 (Almost got this one) 

Give each child 10 minutes of uninterrupted alone time daily.

(This is one of the hardest ones to complete, I have someone

screaming for me constantly)

45 minutes of exercise 3 times a week.

Got this!

Blog 2 times a week.

 YEP!

Read 2 hours a week. ( This may not seem like a lot of time, but for me this is massive)

Check!

Cook dinner at least 5 nights a week.

( I did 3 nights)

Be in bed by 11:oo p.m. every night.

( I tried, but I have an 8 month old with different priorities for now.)
So I will be setting these same goals for this week as well. Lets see if this week is better. How did you do?
Alana