Are you having a hard time remembering to post content on your Facebook page? I know it's hard for me sometimes. Did you know you can schedule all these posts ahead of time? Well good news! You can.  It is very easy, and doesn't take a lot of time. Below are screen shots and instructions on how to do this. Have fun with the extra time you'll save scheduling everything out!
First go to your Blog or Business page on Facebook.  Click in the status area, update your status, links included. In that box you will see a clock.

The schedule post window will pop down. All you need to do is pick the day and time you want this status to post on your page.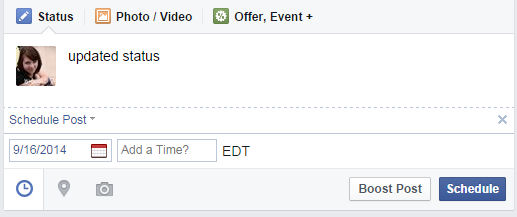 Click schedule, and Ta Da! Your done. Your post is now scheduled to post at the date and time that you need.
This has saved me a lot of time, and has really streamlined my page for me.
Have fun!