7 Must Haves for Every Black Friday Shopper
If you love to head out on Black Friday and score some deals, you already know that bringing you're A-game is a must. But what else should you bring in order to enjoy a successful Black Friday trip? Take a look below at 7 must haves for every Black Friday shopper so you can be sure you are prepared to score all of the deals available to you!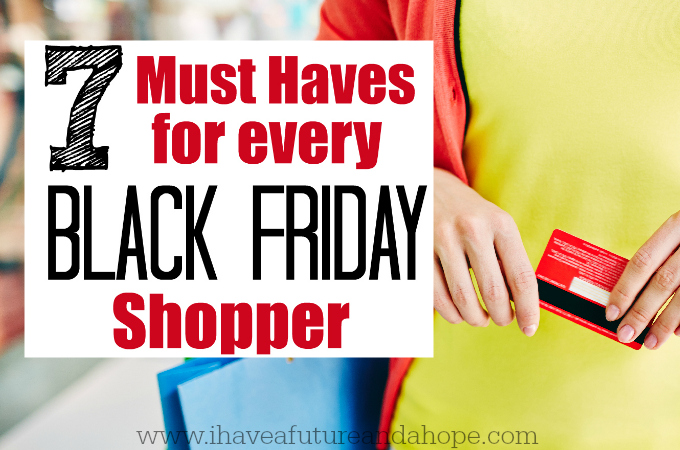 1. Sales binder:
Trying to keep all of your paper items such as store flyers, receipts, and shopping lists can be difficult. Instead, store them safely in a binder. Use clear inserts to keep your paper items safe and easily viewable and accessible. Add label tabs so you can quickly jump to sales ads, receipts, or shopping lists.
2. A calculator:
Be sure you have a calculator on you or on your smart phone so you can easily figure out sale prices, keep tabs on your remaining budget, or add up your purchases. This can help you stay on track and on budget which makes for a less stressful morning.
3. Cross body bag:
Chances are you will need to use both hands and arms when shopping on Black Friday. Use a cross body bag to hold your money and ID so that your hands and arms are free. This will also keep you from becoming a victim of theft on Black Friday, which sadly happens.
4. Energy bars:
If you are starting early and plan on shopping late, you will want to take some energy bars or high protein snacks with you. This can help you stay focused and full until you get the chance to stop for lunch or dinner.
5. Hand sanitizer:
Large groups of people on Black Friday equals large groups of germs. Stay healthy by carrying hand sanitizer with you so you can clean up after shopping, handling money, touching debit card and credit card terminals, ATMs, etc.
6. Money saving apps:
Download money saving apps from the stores you love to frequent prior to heading out. See if the stores you are visiting have a free app and if any coupons or special offers are available on it. You can also find more savings with the Retail Me Not app.
7. Shopping bags/basket:
With so many shoppers, stores may run out of carts and baskets. Avoid the issue by bringing your own shopping basket to use should this happen. Many stores will also let you use a reusable shopping bag as long as it is clear.
Make the most out of your Black Friday shopping experience when you keep these 7 must haves for every Black Friday shopper in mind.
Do you need tips on how to budget better?
When you subscribe for updates, you'll also get instant access to my collaborative e-book 21 Days to a Better Budget as our gift to you.