20 Ways to Bless Others This Christmas
Christmas is right around the corner. It might be a little warm outside now, but soon things will cool down and everyone will be focused on Christmas. Although a lot of people are focused on themselves around the holidays, you don't have to be. Spend time blessing someone else this Christmas. Here are 20 ways you can do just that.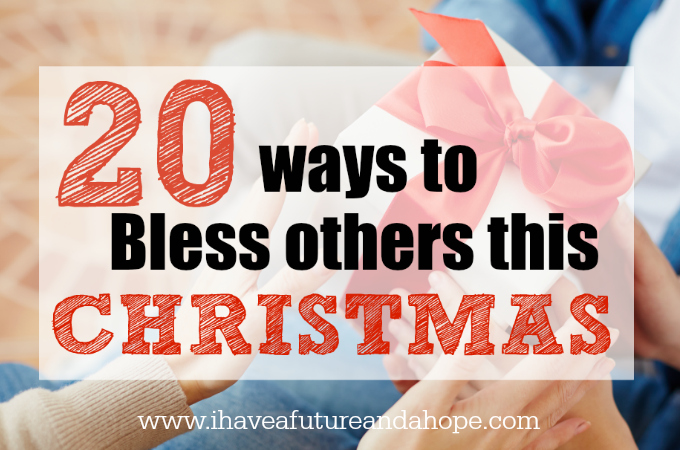 #1. Invite someone over for Christmas dinner.                        
If you know someone who's alone for the holidays, don't be afraid to invite them over for Christmas dinner.
#2. Buy gifts for a less fortunate family.
Some families go without on Christmas. While gifts don't make the season what it is, it's always hopeful to have something to open around the holidays.
#3. Pay for someone's coffee.
While this is a small gesture, it will go a long ways. Paying for someone's coffee is sure to bless them this Christmas.
#4. Donate your time to a charity.
Around Christmas time, charities are normally overworked and underappreciated. Don't be shy about giving away some of your time.
#5. Pay for a meal when you're out to eat.
How awesome it is to find out that someone else has paid for your meal? It's truly a blessing!
#6. Send out Christmas cards in the mail.
Don't just send out traditional Christmas cards in the mail. Spend time writing out a genuine note to someone who needs it.
#7. Give your time to someone in need.
Offer to babysit, cook, or clean for someone who needs it in your community.
#8. Pay for someone's groceries.
Although money is tight for a lot of families, you can really bless someone this Christmas by paying for their groceries.
#9. Pay for their gas.
When you feel led, pay for someone's gas over the holiday season. You never know if they're down on their luck or not.
#10. Be available to listen.
This holiday season be a listening ear to someone who's not having a great year. Perhaps they just need someone to talk to.
#11. Look for an opportunity to help.
Sometimes an opportunity to help is right under our noses. Be looking for a way to help someone in need, even if you weren't expecting it.
#12. Invite them to eat with you.
If you see someone sitting alone and are up for it, invite them to sit with you! Holidays make people feel lonely and this could be a life changer for them.
#13. Help a homeless person.
Just because someone is homeless, it doesn't mean they are heartless. Helping someone in need really shows your heart.
#14. Adopt a nursing home.
The elderly are often looked over during the holiday season. They enjoy food, fun, and fellowship just as much as someone else.
#15. Bake some goodies.
If you have a neighbor or friend that you'd like to bless, don't be afraid to bake them some goodies. Not a good baker? Buying baked goodies is still an awesome gesture.
#16. Visit the local children's hospital.
Being in a hospital as a child isn't fun for anyone. Find a way to help families in a local children's hospital over the holidays.
#17. Bless someone monetarily.
Money can be stretched thin during the holidays, if you know someone in need, reach out to them to help. You never know what this could mean to them.
#18. Donate to the local food bank.
Donating to the local food bank has the power to help a whole community.
#19. Purchase items like socks, underwear, hats, and gloves.
The local shelters are always in need of items like socks, underwear, hats, and gloves.
#20. Smile at someone.
Being a blessing to someone around the holiday season doesn't need to be frivolous. Sometimes a simple smile will do.
Blessing someone else this Christmas is about giving more of yourself and expecting less. What are some ways you can bless others over the holiday season?