This is a sponsored post written by me on behalf of Bestway. All opinions are 100% mine.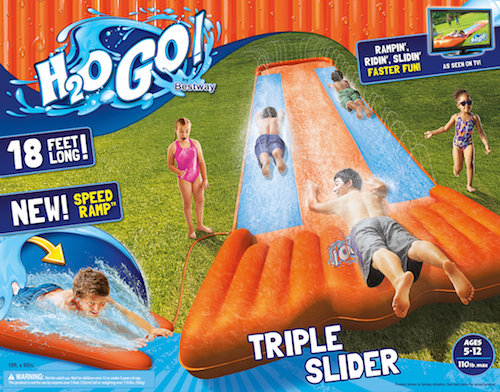 Summer is almost here and that means parties! I love hosting summer get-togethers at my home. It is a time for our friends and family to get together, relax, talk, and have some fun. For my family having fun usually involves water. The H2OGO! Slide is going to help us have a blast this summer with our obstacle course party theme this year.
Theme parties are always a great way to bring everyone together and they create an atmosphere for everyone to enjoy. We love 4th of July parties, summer kick off parties, birthday parties, and more. The H2OGO! Slide would be perfect for any of these parties.
H2OGO! Slide has designed a water slide like I have never seen before, with an inflatable patent-pending Speed Ramp™  that creates a smooth landing and a fast ride down an 18ft slide, you will think of nothing but fun. There is a Splash Lagoon under the Speed Ramp™ that creates a great takeoff along with water funnels down the entire slide so sliders can skim down the slide at their maximum speed. The slide comes in three different sizes: single, double, and triple so there can be some fun competition in your backyard.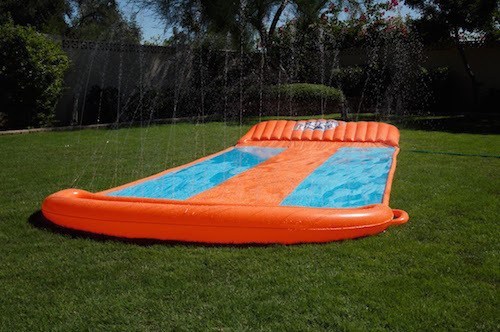 Just imagine the smiles the adults will have when the setup is super easy, and it only takes minutes. Now imagine the kid's eyes when they see this super fun water slide set up and ready to go.
The H2OGO! Slide is ideal for children ages 5-12. If your over 5ft or weigh more than 110lbs. it is not advised for use. You can purchase your own H2OGO! Slide from Toys R'Us, Amazon.com, Target.com, Walmart.com, or you can enter below for a chance to win an  H2OGO! Slide. One lucky reader will win an H2OGO! Slide of your very own!
To enter for your chance to win your own  H2OGO! Slide leave a comment sharing your summertime party ideas/tips featuring the  H2OGO!  Slide as the centerpiece!