Do you crave uninterrupted alone time? Are you loosing your sanity everyday?
I have a secret.
I pay $89 a month for up to 90 hours a of childcare. That means alone uninterrupted quiet time just for me. That is less than a dollar an hour, and I have four kids!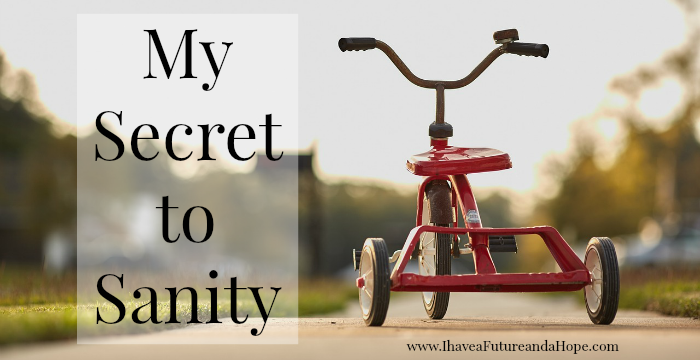 This post may contains affiliate links, which means I receive a small commission if you make a purchase using these links. Please see my disclosure page for full details.
You may be asking yourself, "What is she talking about?".
Most of you have the same opportunity in your city to have this secret to your sanity too.
The YMCA is my secret, and lifesaver!
I am able to take my four kids to the YMCA where they have excellent childcare areas for them to play, hangout, or exercise themselves.
My YMCA offers 3 hours (2 hours for children under 6 months) of childcare everyday they are open. They also have the best nursery workers around. ( I know some experiences may differ from mine, but please let your YMCA know if you have any concerns regarding their childcare areas or policies, they really want your family to have a great experience while you're there.)
We homeschool and the YMCA is a great place of  socialization for them.
My oldest daughter is old enough to use the cardio equipment,  she usually works out for about 30-45 minutes and then goes to the teen area to hangout.
My middle son likes to play basketball, he plays ball or hangs in the teen area too.
My middle daughter goes to the adventure center which is like a playground on steroids. You can get lost in there. She loves to go and meet new friends.
The baby is still in the nursery until he turns two, he will then go to the toddler room which looks like a very fun classroom/playroom. He started out screaming when we would take him into any nursery, but the excellent ladies at the YMCA have him riding buggies around, swinging on swings, and he now loves going.
I workout on the elliptical or treadmill, and weight train while listening my favorite music Andy Mineo, and Lecrae for 2 hours uninterrupted. I then go take a nice hot shower (alone), and get ready without hearing screaming children fighting in the other room because they are all having a great time themselves.
If $89 a month is too much for you to spend the YMCA offers financial assistance. All you have to do is go into your local YMCA or go online at http://www.ymca.net/  and fill out the financial assistance papers and submit them. We had to get financial assistance for a few years, there is no shame in asking for help.
We forgo cable television to have a YMCA membership instead. See if you can find the money in your budget to take care of yourself a few times a week. You will be healthier not only in your body, but in your mind as well.
So if you need 90 hours of alone time visit your local YMCA and see what they have to offer.