If  you're a mom you have heard the dreaded words "Mom I got gum in my hair". Those are words that make every mom just cringe. All kinds of thoughts run through your head…..new hair cut, what on earth am I going to do, she's let he hair grow for two years, and I'm sure many more.
Some of you may not know that I am also a cosmetologist as well as a homeschool mom. I work out of my home part time doing hair and love it.
I have also heard those dreaded words more than once in our home. I have found out what works and what doesn't work when it comes to removing gum from your kids hair, or it may be your own. Your kid may decide to throw gum across the room and it lands in your hair ( true story ).
Have you tried peanut butter and it just didn't work? Well here is my  tip to get gum or any other sticky objects out of hair.
Olive oil cooking spray.
Yep, that's it. All you need to do is section out the area of hair that has the gum in it. Saturate the gum and hair with the olive oil cooking spray and slowly pull the hair out of the gum. It usually just slides right on out, or it makes it really easy to remove the strands of hair from the gum.
Now there are no weird haircuts needed, or special shampoos. Everything you need is probably right in your kitchen cabinet.
Now if we could only figure out how to keep our kids from cutting their own hair……I think it is just a rite-of-passage in childhood. This is probably where you would need that weird haircut.
Do you have any other easy ways to get gum out of hair? I would love to hear all about them in the comments below!
P.S. As soon as this happens again in our home I will post a tutorial all about it!
Grab this free e-book!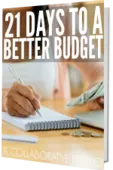 You will receive weekly updates, freebies, and more!