Welcome to my Summer Camp Series! I will posting all about Summer Camp for the next TWELVE DAYS! You won't want to miss this series.
So if you are wondering if you should look at summer camp programs for your children this summer this series will give you a lot of information. My children usually attend at least one summer camp of various kinds in our area, and they have a blast.
I am also giving away a free summer camp packing guide below!
---
You already know summer camps are a wonderful way for your child to enjoy the great outdoors, meet potentially lifelong friends, and prevent sitting in front of the television all summer. Unfortunately, they can also be very expensive. Here are some reasons why you might be paying a pretty penny just to send your child to camp.
Meals Are Included
One of the primary reasons summer camp is expensive is because they are providing everything for your child aside from their clothing and sleeping bag or blankets. They will be providing food and shelter to begin with.
The food usually consists of breakfast, lunch, dinner, and beverages throughout the day. Some days they might also have snacks and desserts.
The summer camp needs to pay for the food for all the kids, not to mention for the cooks preparing it. This adds to the overall cost of just running the camp, which can cause the price to go up.
Your Child Participates in Various Activities
The summer camp is also going to have a wide range of activities for the kids, many of which require a lot of materials that might be on the pricier side. For example, many camps have arts and crafts when spending time indoors.
This is a lot of fun for the kids, but it requires some expensive materials! Camps with lakes often have different types of water floats and toys that also add to the cost. Expect to pay a little more for summer camp in exchange for all the fun activities your kid will enjoy during camp.
These moments are priceless, so keep that in mind when deciding whether or not the price is worth it.
They Have to Pay Employees
The people running summer camps not only need to pay for the supplies, food, and materials for the kids, but for their staff as well. Aside from paying the cooks, they also have on-site nursing staff, security, maintenance staff, counselors, and various other employees that help camp run smoothly.
If they bring in experts for things like teaching swimming or archery, those experts often require being paid a little more for their time. This is all in addition to the general costs of maintaining the campgrounds.
Some Camps Are Pricier
Naturally, some summer camps cost considerably more than others. There are "luxury" summer camps where the food, cabins, and activities are a little more high-end.
This can cause the camp to be more expensive. Some camps are shorter in length and campers are bunked up in smaller cabins, so the cost might be a little less.
Ultimately, you are getting a lot in the cost of summer camp, and your child is benefiting even more. If you can come up with the money, it is well worth the price you pay.
Download Your Summer Camp Packing List Here!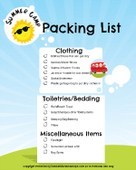 By subscribing you will get our latest content by email.