(This post may contain affiliate links. Please read my disclosure policy for more information. I may earn commissions from purchases made using these links, which in return helps to pay for the cost of running this site.)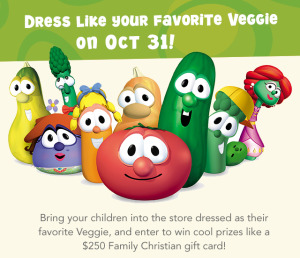 On October 31st, Family Christian Stores are having a nationwide event at ALL of our Family Christian locations called "Dress Like a Veggie".  Bring your children dressed like their favorite veggie, it doesn't even have to be a VeggieTale! This is a contest with great prizes to be won. If you are like me and need some ideas on how to dress like a veggie, Family Christian is here to help. They have created an inspiration board on pinterest that can help. It can be found here: inspiration board
All children who stop by their local Family Christian store will receive small goodies (non-edible so there are no allergy fears).
 To enter the contest, the participants must have 1 child dressed up like a veggie (it does not HAVE to be a VeggieTales veggie…just a veggie). Their parents must upload and share one photo of the child(ren) in their local store dressed like a veggie. They must tag @FamilyChristian in their post and use the hashtag #FCVeggies
The grand prize winner will receive a $250 gift card for Family Christian. Five runner ups will each receive a $50 appreciation certificate.
This is an event you will not want to miss!
Locations near you may include:
BOWLING GREEN, KY
GREENWOOD COURTYARD
2425 SCOTTSVILLE RD STE 100 BOWLING GREEN, KY 42104-4457
(270) 781-6043
CINCINNATI, OH
EASTGATE CROSSING SPACE 612
4601 EASTGATE BLVD CINCINNATI, OH 45245-1256
(513) 752-6251
CINCINNATI, OH
NORTHGATE MALL
9577 COLERAIN AVE STE 220  CINCINNATI, OH 45251-2005
(513) 741-4433
CINCINNATI, OH
9938 WATERSTONE BLVD
CINCINNATI, OH 45249-8295
(513) 583-5100
Visit  http://www.familychristian.com/ to find a store near you.
They are also very generous and offering a 40% off any one regularly priced item with this coupon (just click on the coupon to print your coupon):