You hear the dreaded words that you prayed you would never hear.  Immediately you go into shock and disbelief. How are you going to get through this? What is going to happen? When will the nightmare end?
You may have been, or you are right in the middle of hardship, disbelief and grief and you are wondering "will I get through this?".
Yes sweet friend, you will get through this.
I was sent the book You'll Get Through This by Max Lucado to review from Family Christian.  All opinions are 100% my own. For more information please read my disclosure page.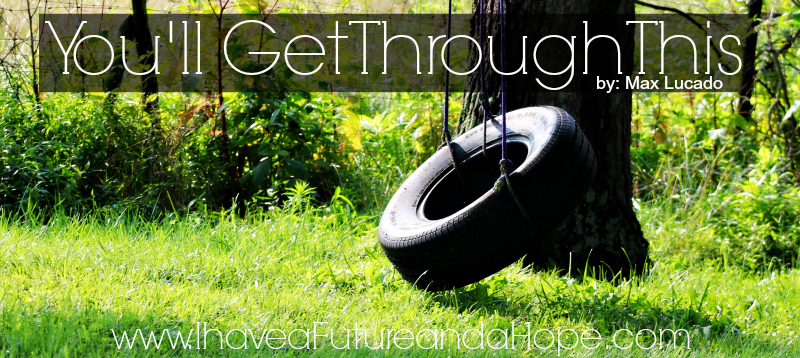 This post may contains affiliate links, which means I receive a small commission if you make a purchase using these links. Please see my disclosure page for full details.
When we heard the doctor tell us my husband he had cancer our nightmare began.  Shock, disbelief, grief, and fear set in and we were searching for answers.  Looking for any hope that we could find.
I remember just longing to talk to someone who could tell me "You'll get through this."
Max Lucado has written a wonderful resource that I really wish I would have known about during that time of unknown. You'll Get Through This: Hope and Help for your Turbulent Times has been a blessing to me, even now after the cancer has been in remission for 4 years.
I find myself going through turbulent times still, but they are just different. God never told us that life would be perfect or easy, but that He would be there for us and guide us through these times and He will work everything for our good. Waiting for the "good" is where it gets tough.
There will be "good" again.
Max Lucado gives us real examples from the bible of turbulent times that those who were lived before us had gone through,  God used these people to feed the starving nations, restore relationships, and give us hope.
"You'll Get Through This" should be a manual required for life. We are all going to go through turbulent times, there is no respecter of person, and we all need a manual to show us that we will survive and God will be triumphant in our lives.
Can you relate to these chapter titles:
You'll get through this
Down, Down, Down to Egypt
Alone but Not All Alone
Stupid Won't Fix Stupid
Oh, So This is Boot Camp!
Wait While God Works
More Bounce Back than Bozo
Is God Good When Life Isn't? - ( I've questioned this myself)
A Splash of Gratitude with That Attitude, Please
Now About Those Family Scandals and Scoundrels
Revenge Feels God, but Then
The Prince is Your Brother
Good-Bye to Good-byes
Keep Calm and Carry On - ( My favorite )
Evil. God. Good.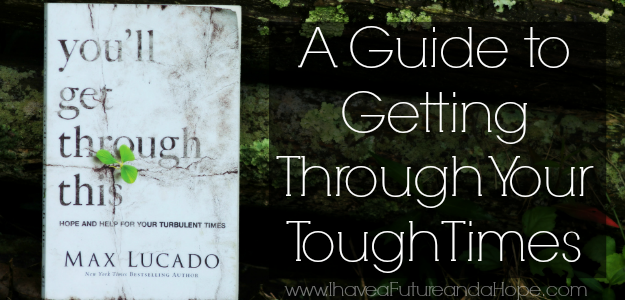 As you will find in most of Max Lucado books there is a study guide in the back of the book, this book has provided study questions to get you to dig deep, and they reference bible verses to get you through your tough time.
I have sat down and read aloud to my husband the areas I have personally highlighted throughout this book ( which is almost the entire book ) and all he could do was shake his head in agreement.  Knowing that someone gets that the tough times aren't easy, and to give hope to those people is priceless.
If you are journeying through cancer, divorce, job-loss, death, or anything else life throws your way I can not recommend this book enough.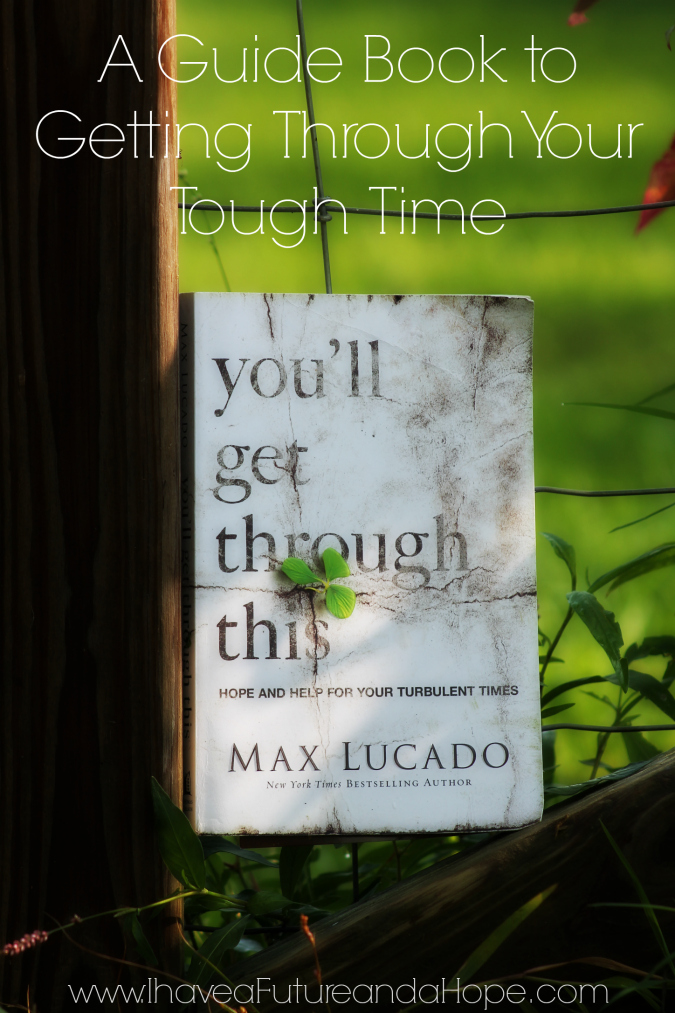 You can purchase a copy of You'll Get Through This from Family Christian online, or in your local stores.