Welcome to my Summer Camp Series! I will posting all about Summer Camp for the next TWELVE DAYS! You won't want to miss this series.
So if you are wondering if you should look at summer camp programs for your children this summer this series will give you a lot of information. My children usually attend at least one summer camp of various kinds in our area, and they have a blast.
I am also giving away a free summer camp packing guide below!
---
How to Find the Best Camp For your Child
If you have decided to send your child to camp while they are off school, you might be wondering how to choose the right one. After all, there are many different ones to choose from, from themed camps to day camps. These tips can help you choose the perfect camp for your child.
Look Into the Primary Focus
As you begin looking into different summer camps that are available, take a look at the camp's main focus. Each camp will have a primary focus for the campers, whether it is for fitness sand outdoor activities, learning important life skills, or just to have fun. Some camps go even more specialized, such as wanting to teach the children how to survive in the wild, teach about math and science, or help kids learn important social skills through team building exercises. The focus is important because your child might have different needs than other children.
Find Out About the Staff Requirements
Since your child might be at sleepaway camp for weeks at a time, you want to know they are safe and well protected. The first way to do this is by researching the camp and finding out exactly who is on their staff and how they hire them. You need to know they don't just pick and choose applications, but that they perform background checks and give them proper training. These staff members will be keeping your children safe, so they shouldn't have a criminal record, have failed a drug test, or lack proper skills to truly keep an eye on the children.
Consider the Length of Camp
Another decision to make when trying to figure out the best camp for your children is the length of the camp. Some camps last a day or a weekend, while others last weeks or even a month or longer. Consider what your child's comfort level is and what they will gain by going to a longer or shorter camp. Some kids excel with longer periods of time at camp, while others wouldn't enjoy more than a few days away from home.
Decide if the Price is Worth it
One of the main downsides to summer camp is that the sleepaway camps tend to be a little expensive. You might not know if it is really worth the cost of sending your kid away to camp. A good thing to do is make a list of the pros and cons of specific types of camps to determine if the pro list is larger than the con. If the cost is the only issue, but your child benefits greatly, it might be worth it. On the other hand, you might find a camp that costs less and has many of the same benefits.
Get Your Child Involved in the Decision Making
Don't forget that your child can give you a lot of insight into what summer camp is best for them. They might have a passion for a certain activity you weren't aware of, and have even found a camp nearby offering that activity. Let your child know you want to choose a camp, and maybe they can help you with the decision process.
Download Your Summer Camp Packing List Here!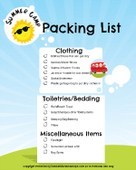 By subscribing you will get our latest content by email.