Welcome to my Summer Camp Series! I will posting all about Summer Camp for the next TWELVE DAYS! You won't want to miss this series.
So if you are wondering if you should look at summer camp programs for your children this summer this series will give you a lot of information. My children usually attend  at least one summer camp of various kinds in our area, and they have a blast.
I am also giving away a free summer camp packing guide below!
5 Reasons Camp For Children is So Important
Summer camp doesn't just keep your kids out of the house and from playing video games during their entire summer break, but it can help them grow and learn. There are many reasons camp is so vital for children, including the following reasons.
1. Kids will Enjoy the Outdoors
It is far too common for kids to spend most of their time indoors. They are inside for most of the school day, do their homework indoors, and often play with friends, watch television, and read all while sitting inside. While there is nothing wrong with this, they also need to learn more about nature and the world outside of these comforts. This is an excellent benefit provided to them through summer camp. Kids spend most of the daylight hours outside, bird watching, swimming, plying sports, and going on hikes or bike rides.
2. They Have Brand New Experiences
Another reason to send your children to summer camp is that they will get to enjoy all new experiences they wouldn't have had otherwise. For example, it might be hard finding somewhere local that teaches archery to kids, but camp is a great place to do that! They can also participate in fun group activities that aren't always available outside of camp.
3. Kids Learn Social Skills
Among the different skills kids learn while away at camp, proper social skills is a big one. Whether your kids make friends easy or are very shy, it can help in both cases. They will need to be a part of a community while at camp, sleeping on bunk beds, eating together, playing together, and cleaning together. A lot of important teamwork is involved in summer camp, even at the specialty themed camps. Your child will return home with a new way to look at the world, beginning with their improved social skills.
4. Many Kids Make Lifelong Friends
Making friends is hard for some kids, but not at camp! Just about everyone makes new friends at summer camp, as it is hard not to. They spend nearly all their time together in smaller groups, so they are bound to start chatting and enjoying each other's company. In the evenings, kids sit around the bonfire and tell ghost stories or sing songs. During the day, they participate in arts and crafts, and lots of outdoor activities together. Your children might meet the fiends they will have for the next 50 years of their life.
5. They Are More Active
It is also an excellent way for kids to get more exercise and remain active! Summer vacation tends to cause some kids to be couch potatoes since they don't have to get up and go to school. If this is a concern of yours, you will be happy to note that summer camp is nothing like that. Quite a bit of their time is spent away from technology and out in nature.
To follow this full series sign up for the FREE SUMMER CAMP PACKING LIST below and receive an e-book of all posts for free at the end of the twelve days. You can find day one here.
If you have kids or teens that are interested in making money this summer you may enjoy this post:
 10 Ways Kids & Teens can Make Money this Summer
Download Your Summer Camp Packing List Here!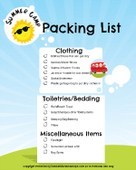 By subscribing you will get our latest content by email.