I am so excited to have guest blogger Leah Heffner today on I have a Future and a Hope, she is nominating her father for the chance to win a cruise from Family Christian! Leah is a wonderful momma to 2 kiddos and one on the way, and loves her daddy so much she wrote this inspirational post all about him. Thank you Leah for sharing your story with us!
In one of the most famous stories of the Old Testament, we meet a man named Jonah, who is a prophet of God. He is instructed to go and give a message to the Ninevites about God's judgment. But instead, our buddy Jonah boards a ship in the opposite direction hoping to run away from God.
But of course, you can't run away from God.
My dad, Gary, grew up in a farming community in Ohio, the youngest son of the local feed man. His family was very active with their local church. When asked as a young boy what he would be when he grew up, he'd proudly answer "Pastor!"
As he grew up, Dad became more involved with the local Farm Bureau and even planned to go to college and major in Agri Business. When going off to school didn't work out, he worked at Campbell Soup on third shift, attending college classes right before and after his shifts.
He married my mom, Gwen, and a year later, they had my brother, Aaron. He started working for my maternal grandfather making and setting burial vaults in cemeteries.
My parents were involved with their local church, Dad serving as a Deacon and Mom as a Sunday school and Bible school teacher. They struggled with Secondary Infertility for almost five years before welcoming two baby girls in just under two years.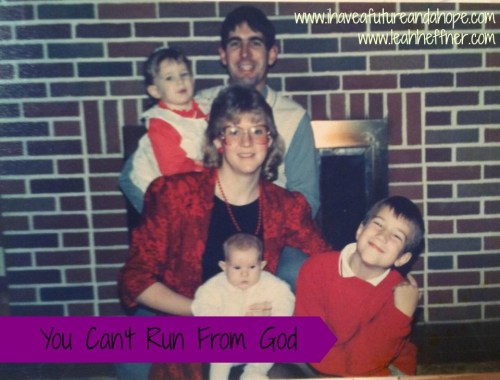 Dad finished up his Associate's Degree by taking night classes at the local community college. He started selling radio advertising, then cemetery monuments. He spent a lot of time with grieving widows and hurting families. He loved his job and was good at it.
My parents built the house they planned on dying in and life settled as we all grew. Mom taught reading at one of the local Christian schools where we also started going to church and attending school. Our parents were involved with lots of school activities. Dad also became involved as an Elder and worked closely with the church leadership and pastors.
So God sends a storm and the experienced crew is terrified, throwing everything overboard. Then realizing that someone on board must have angered one of the myriad of local gods, they cast lots, which fall to Jonah, who is then thrown overboard. Jonah knows God is trying to get his attention so he's willingly thrown into the deep.
But of course, you can't run away from God.
After years of selling cemetery monuments and having a second family in his bosses and co-workers, Dad experienced some pretty big changes at work. A big national company came and offered to buy the small, local company Dad worked for. Because of Dad's relationship with the owners and his success as a salesman, they offered to sell it to Dad. Of course, he couldn't match the offer the big company made. He decided to work for the big company.
Working for the big company, especially after years of a family company was a challenge. Dad knew he needed a change. He sought the advice of a friend and pastor who suggested that Dad and Mom visit the seminary and see if doors were open or closed there and to decide if now was the time to follow what God has placed on his heart so many years before.
A gigantic fish is sent by God to swallow Jonah whole. Jonah prays and cries out from inside the belly of the fish for three days until finally, God has the fish vomit Jonah up onto the seashore. Jonah is resolved to do what God has told him to do.
Because of course, you can't run from God.
Dad started Greek in summer of 2000 at the age of 41. Greek was the "make or break" class of his seminary career, so everyone took it first as a summer intensive.
So as not to uproot our family an extra time, and because we only lived about an hour from the seminary, my dad lived in the dorms during the week, and commuted home on the weekends. He spent three years taking classes, volunteering, meeting requirements, working during breaks, and praying. Lots of praying.
At the end of those three years, he has his internship year, followed by his first church assignment. My dad was 46 years old.
Sadly, Jonah has no love for the people of Ninevah and he hopes that God's wrath and judgment will come and wipe them from the earth. The hearts of the Ninevites turn to God and Jonah has a hard time understanding how God works. So God teaches Jonah about His love for all the things and people He has created by sending Jonah a weed for shade and then taking it away. Jonah learns more about God's heart for His creation and how to minister to them.
Because, as Jonah learned, you can't run from God.
You know it's funny, looking back on all the years my dad spent in cemeteries, funeral homes, with grieving families. All of it shaped and molded his heart to have a love for hurting people. At the first church he served, he immediately became the guy doing hospital and shut-in visits, or going out to sit with families after a loved-ones death.
And those years struggling with infertility gave him unique insight into working with other families who struggled with infertility – about half of the families at the second church he served.
Now Dad is the Minister of Pastoral Care. He leads Stephen Ministry, sets up counseling for grieving families, does hospital visits and more.
Not one minute of all those years of working in cemeteries, sitting with widows, walking through hard years with my mom, or anything else he did or was involved with was wasted. God is using all of it. God was teaching my dad how to love His creation better. How to serve and pour out and walk alongside people well.
All of those years working in sales, Dad was learning how to communicate well with people and deliver a message. God is using all it. God was teaching my dad how to give a message to people, how to pull people's hearts to God, how to love His creation better.
When we're in the middle of it - running to the ship, or the sitting in the belly of the fish, or even when things in ministry don't go quite the way that we think they should go – when we're in the middle of it, it might seem like it's all a waste. Or at least parts of it.
But we all know now that the days in the belly of the fish changed Jonah's heart. That sitting under the shade of that leaf then losing it molded him more into God's image.
Because, of course, Jonah couldn't run from God.
And as it turns out neither could Gary.
Or any of us for that matter.
This post was written to nominate Rev. Gary Richard for a chance to win a spot on a Duck Commander Cruise, presented by Duck Commander and Family Christian. You can find out more about the contest here. The pictures are from our family stock pile and the opinions in this post are because I love my dad, and respect him mightily. This is a guest post by Leah Heffner. 
If you like this post or you know my dad, please comment and share!
P.S - You can have a chance to win a Duck Dynasty cruise by visiting your local Family Christian, or enter online here.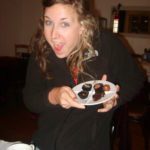 Leah Heffner is a wife to a sexy, beard-sporting man of God and mom to two (and one on the way!) of the cutiest, funniest, and messiest kids on this planet. She loves to DIY stuff (and sometimes is just as messy as the kids!) but always has a blast. Leah loves being a stay-at-home-mom and is kind of a hippy/pioneer lady. Most of all, she loves the Lord and is so excited to get to do life with other moms and wives who want to join her for Life Around the Coffee Cup.
Disclosure:  This post is my submission to Family Christian for a chance to  win tickets to the Duck Dynasty cruise for both Pastor Gary and myself/Alana Satterly. For more information please see my disclosure page for more details.