Are you homeschooling a student that is taking Pre-Algebra? If so do not fret, there is a curriculum that will take any anxiety out of teaching Pre-Algebra. If you, like me have thought "what if I can't answer a problem my child may have, what if I am not confident?".  When I was asked to review
 UnLock Pre-Algebra by UnLock Math I jump at the opportunity. I have an 8th grader who is in the middle of taking Pre-Algebra  and I feel a bit lost with some of the questions she has.  UnLock Pre-Algebra is here to save the day, or year! This is a homeschool math curriculum that you need to check out!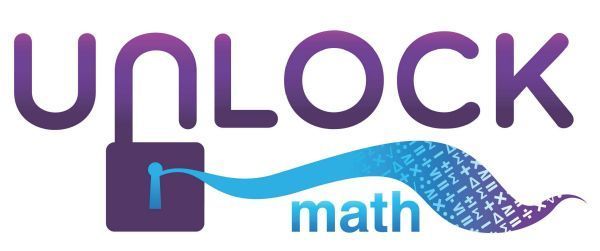 What I received:
Membership to the online Math program UnLock Pre-Algebra by UnLock Math for one student.  This is a program that is completely online, so there are no lesson plans, it is all done for you!
My 8th grader moaned when I told her she would be using an online math program to help her with her Pre-Algebra skills, but she quickly changed her mind about the program when she logged on to the student dashboard and could see everything the program had to offer.
There are 16 Units with a midterm review and test, as well as a final review and test.
The navigation to each unit is very easy to find and launch.
Once the student has launched the unit they will click on Daily Lessons and Reviews or any Quizzes that are to be done for that day.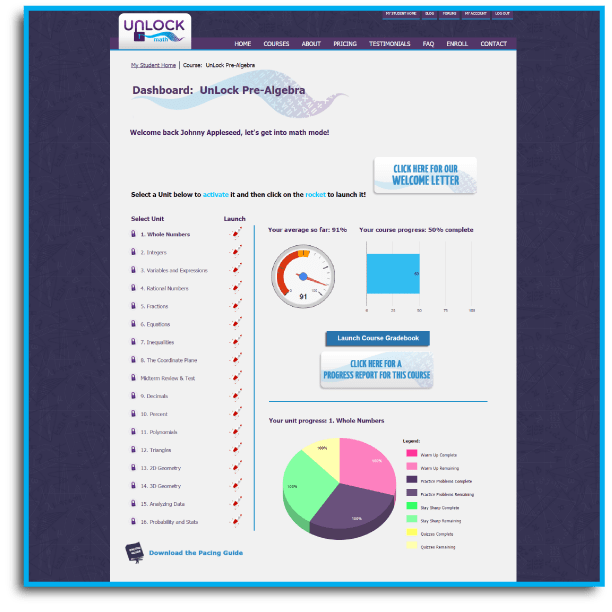 Once your child has launched their lesson for the day they will come to a screen that has a lesson path for them to follow:
First your child will Warm Up their math skills with 5 short math problems, these are basic math skills to get their brain thinking before they watch the video lesson. This is great for getting your mind ready for math!
Next they will watch the Daily Lesson.
Let me just say this, I have never had a math teacher as fun as Alesia Blackwood, I wish I had. She is enthusiastic and fun to watch. Your children will not be bored, but intrigued. She is bubbly, and teaches the lessons in a very fun way where they will remember what is being taught. 
After the daily video your child will then complete 10-12 Practice Problems that goes over the lesson your child has just learned. These are automatically graded, and if your child needs more practice the program will automatically generate new problems for the student to practice.
They will then move to Stay Sharp. There will be questions from previous lessons to complete, this is great for retaining what your child has learned in previous lessons.
Next they can answer a Challenge Yourself question, it is like extra credit!
Lastly your student can print out the reference notes for the lesson. This goes over all of the concepts taught, and vocabulary.  You can print these and make a math notebook for your children, if they are on another lesson and need to reference a concept they have right there in their hands!
After that your child is finished!
I have not found another math program that comes close to the explanation of Pre-Algebra from a real teacher teaching the lessons. I believe this helps the students who are especially visual learners. The graphics are above and beyond, and the presentation is always fun.
Course Gradebook:
This is where I get excited! The Course Gradebook is the place where you can check grades, progress, and track time for the lessons. This is found in the students main dashboard. This makes your job easy peasy for tracking grades, and time. All  you need to do is print the pages you need and collect those for your records. Easy!
A pacing guide is included with this curriculum so you can plan your year. This lays out the number of days it should take to complete each lesson, and which lesson should be done and on which day.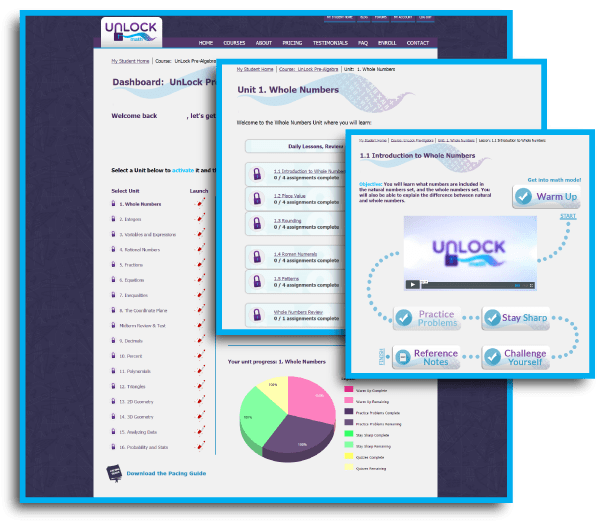 My Opinion:
This curriculum is a must for your family if you have a child in Pre-Algebra. I have learned from the teaching, and my child has retained what she has learned because it is presented in an easy to follow fun way.
They offer a demo lesson that can be found here. I encourage you to try out the demo lesson with your child.
Video overview of the demo lesson:


Follow UnLock Math on Social Media!
http://facebook.com/UnLockMath
http://pinterest.com/unlockmath/
http://plus.google.com/+Unlockmath
http://instagram.com/unlockmath/