Lets keep it real! Yes, I will be the first to admit I scream / yell at my kids sometimes. Actually more than I would ever like to admit. I like to use the excuse that my children are the reason. This is wrong. This should not be a first response. I find that I was never a screamer / yeller before having my kids. Now that I have a teenager I find that it is so hard to know how to parent, and parent the way Jesus wants me to parent. I have a very strong-willed child, and there are days I just want to give up, and I find that is when I begin to yell. I feel hopeless, alone, disrespected, hurt, guilty, and so much more. I find that I am so fatigued most days, and that it is easier to want to give up other than do what is right. My husband and I work a lot, and raising 4 children in the middle of everything is tough. Here are a few things I want to challenge you and myself with if you find yourself relating to my story:
Scream Free Challenge
Give yourself a timeout. When you find yourself wanting to runaway, runaway for a few minutes. That is your body, your mind kicking in and telling you what you need. Go to your room and just sit. Go to your bathroom and lock the door. PRAY! Just don't lose your cool. Walkway.
Say what you mean, and mean what you say, and don't keep repeating yourself. This drives me crazy, repeating over, and over. I tend to relax on the consequences, and this does nothing but harm my children. This shows them how to disrespect me. That I don't mean what I say. So I need to "say what I mean, and mean what I say", and nothing else.
Choose consequences a head of time. Plan what consequences will be given for ________behavior. This will keep you from blurting out consequences that you don't intend to keep. Hang them on the wall somewhere if you need to so your children will know what to expect. If you find that you want to start screaming, walk over and point to the consequences on the wall and never speak. This will keep you from the temptation to scream.
If you ever lose your cool apologize.  Right then. Ask for forgiveness.
Acknowledge the situation, gain knowledge of how to prevent a situation from reoccurring.
I am taking part in a bible study at my church that is currently reading "Desperate"  by Sally Mae. I want to encourage any "desperate" momma out there to read this. You are not alone! As I am reading and highlighting (every word) I keep saying to myself; " Yes, that is so me! She gets it!". There are days when you feel like, "Lord why did you make me "their" momma?" I can't do this". Then I pop open this book and take a deep breath. Ahhhh, Lord you have me right where I need to be, and you will equip me with all the skills I need to be their momma.    So will you take part in this challenge with me? Will you? Lets encourage each other. Let your kids know about this challenge, and ask them to help you, I am sure your children will be willing to help. Ask them, "what can you do to help this family run smoother, what responsibility will you take on?" I recently heard someone describe yelling as a cancer, that every time we yell it is like cancer permeating another healthy cell until it finally takes over and there is nothing left. Our children are left feeling inept, and angry, instead of getting to the bottom of this issue, the heart. Reach the heart of your home by changing yourself first and foremost, everyone else will soon be following. Blessings!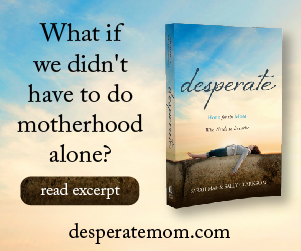 Related articles across the web