I was inspired by Family Christian to write this blog post based on Kyle Idelman's newest devotional "40 Day's to Lasting Change" . I am breaking the book down into weekly devotional entries and making it a series of posts that will be posted every Thursday. Enjoy.
This post may contains affiliate links, which means I receive a small commission if you make a purchase using these links. Please see my disclosure page for full details.
Week 2: 40 Weeks To Lasting Change
But the Lord God called to the man, "Where are you?" Genesis 3:9
You know that one area in your life that you struggle with, secretly or outwardly? The "thing" that you can't just seem to let go of. Those "things" can get in our way, so we tend to put them in a box, and deal with them on another day.  This "thing" for me was grief and depression.
I had never been a depressed person before. I also had never lost a loved one before. I was around 28 when my best friend, my Grandma died. I never knew what grief felt like before. What I was feeling was so confusing for me.  Not only did my mind want to check out, but my body was also displaying physical symptoms I had no control over.
Not having control made me feel crazy. I had two kids at the time to take care of, and I just got up everyday and did what I needed to do to take care of them. I tried to ignore my "thing" day after day, but it wouldn't go away. I went to my doctor and got on medicine to help me. I am so glad I did, my life was starting to feel somewhat normal. I  could start to deal with the grief once I knew I wasn't going to die from my physical symptoms.
I never really went to the heavenly doctor though about my healing that needed to happen. Why?
I was mad.
I was depressed.
Depression is not something you can "just get over". No, it is something you need to seek help for. I remember asking God "what is going on with me?", and I felt like there was no answer. The problem here was that I was asking God why did he do this to me, instead of asking Him to help me through it.
I felt like I was all alone.
In the devotion 40 Days To Lasting Change the question from God becomes "Where are you?"  Do you try to avoid God like I did and instead run from him when you need help with your "thing"?  Do you try to fix things on your own like Adam and Eve did in the Garden when they tried to find clothes and hid from God? What are you hiding from God?   Is there a place where God is not invited to come intervene in your life?
I encourage you to dig that "thing" up and invite God to take it in his hands. Ask him to intervene.  God wants us to talk to him, and communicate our feelings to him even if they aren't pretty. He's God, he can handle it.
When I finally told God I was mad at Him, He told me he already knew that, and it was okay, he understood. He waited on me.  God knew me. God knows me. He knew my feelings, He told me they were okay, and I gave them to Him. Then and only then did my true healing start to take place. Healing that no medicine could give me. He gave me my joy back!
So the question  is " Where are you?"  Hiding or seeking?
Receive our complementary e-book "Saving For A Family Vacation"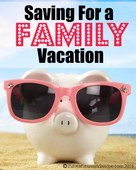 Subscribe to get our latest content by email.