I was inspired by Family Christian to write this blog post based on Kyle Idelman's newest devotional "40 Day's to Lasting Change" . I want to break the book down into weekly devotional entries and make it a series of posts that will be posted every Thursday. Today I will start the series with day #1 ,and I couldn't be more excited! Enjoy.
This post may contains affiliate links, which means I receive a small commission if you make a purchase using these links. Please see my disclosure page for full details.
Week #1: 40 Weeks to Lasting Change
Open my eyes that I may see wonderful things in your law. - Psalm 119:18
Have you ever witnessed someone have an "AHA" moment, or have one of your own?  I have. It can be a spiritual awakening that knocks us to our knees, or a gentle tap that starts with an idea. It can come in many forms. Ours came with the word cancer, yours may be through words, actions, or ideas. However it comes, it transforms.
God's timing for our "AHA" may not be your timing.  You see, God knows all things, including our hearts, and our needs. He perfectly orchestrates what is best for us and waits for that moment. "AHA"
When we get our "AHA" it will be perfect, and revealing. It will make you ask God "What are you trying to tell me?", open my eyes to all that you have for me. Whatever it is, show me with your eyes, prepare me.
If you haven't had an "AHA" moment and you're praying for one, hang on, live in expectation for it. It will come. Hang on to every word, every promise God has for us.  My favorite promise inspired my blog name.
"For I know the plans I have for you", says the Lord. "They are plans for good and not for disaster, to give you a future and a hope. In those days when you pray, I will listen." - Jeremiah 29:11-12
He will listen when we pray. There are day's when I feel too exhausted to pray, but if we pray he promised to listen, even if it's a prayer of "God please help me today" and that's all we can mumble out.  When we are waiting it can be so hard to pray, but know that God knows your prayer before you speak it. He's our Daddy, he can tell when something is wrong, just like I can tell when something is wrong with one of my kids. They don't even have to tell me, I just know, and I scoop them up and hug them and tell them I love them.  God loves you even more!
What "AHA" moment are you waiting for? Pray for it. Expect it. Wait for it.
Receive our complementary e-book "Saving For A Family Vacation"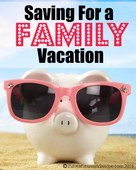 Subscribe to get our latest content by email.