As soon as I saw the preview for Owlegories: Sun, Seed, and Water, I knew my children would fall in love with  these cute little colorful owls, and I was right.  Owlegories introduces your children to simple science lessons while integrating God into the stories. Family Christian sent me Owlegories for a review and I was excited to be able to do this.  All opinions are all my own,and my 6 year old daughter's too.
Owlegories is great for homeschool Science in Pre-school, and Primary Grades.
Owlegories is definitely a favorite in our household.
As soon as my 2 year old hears the theme song he immediately comes running to watch. When your children can learn and laugh out loud it is the perfect combination.
Each episode starts with a bible verse that follows the topic of the show. The owls join the professor in their classroom and they journey on an adventure together. I also appreciate the manners taught subtly throughout the story, reaffirming what is taught at home.
I find Owlegories perfect as a science, bible, and character homeschool resource for lower primary grades.
Owlergories takes an element like the Sun and will teach about the scientific facts, but also teach how God is like the Son as well. While the owls learn they adventure together learning problem solving, character decisions, and teaching about friendship.
The brightly colored owls named Joey, Nora, Violet, Gus, and Twitch the Professor teach our children Godly characteristics and lessons. At the end of each episode a special speaker comes and recaps the biblical story with bible verses, and call to actions for your children.
What is great about Owlegories is that it is just not a movie but an all around interactive resource.  There is an app for Andriod and iOS that can be downloaded and played. The app includes Owlegories TV, memory verses, and a storybook app.  You can watch Owlegories on your iPad as well.
If you would like to purchase your own copy of Owlegories: The Sun, The Seed, The Water you can visit your local  Family Christian store or at their store online here.
 We will be buying each new episode as they are released because we love Owlegories in our home!
Receive our complementary e-book "Saving For A Family Vacation"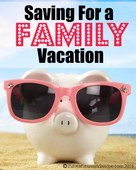 Subscribe to get our latest content by email.